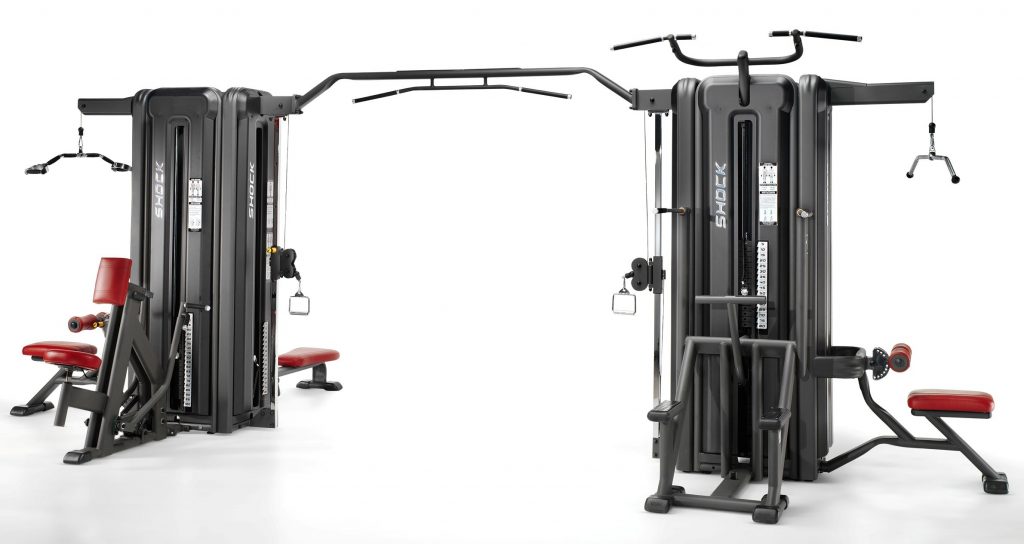 Size:69cm x 227cm x 233cm (LxWxH)
---
Weight:1444 kg
---
Instruction pictogram included
Warning and Safety of Use Signal Label.
Main frame: OVAL steel tube of 120x50x2 mm. and 100x50x2 mm. Cold-curved SAE 1008 calibration.
Aluminum weight selection needles, magnetized to prevent fall when exercises are performed and with spiral wire to prevent loss.
Steel cable, galvanized, preformed and self-lubricating internally, manufactured by extrusion, from 3 mm. and coated in nylon up to 5 mm. With a break resistance of 907 Kg. Meets MIL-DTL 83420 standards on flexibility and MIL-DTL 18375 on corrosion resistance.
Pulleys: Made of FAG polypropylene, with mechanical double bearings and precision grinding to ensure long cable life, smooth movement and maximum durability.
Fairing: Fairing of the towers where the weights are in ABS to improve appearance and increasesafety. ABS components provide rigidity, mechanical resistance, chemical attack resistance and stability at high temperatures as well as hardness, highly appreciated properties in fitness equipment applications. It also offers toughness at any temperature, this is especially interesting for cold environments, in which other plastics become brittle.
Security: Machines manufactured under UNE-EN 957-1, 957-2 and 957-4:2006+A1 standards.
Plates/Weights: Calibrated steel. They carry polyamide bushings for smoother operation and avoid noise in performing the exercise.
Load: 2 high pulleys with 100 Kg. (20 of 5 Kg.) 2 low pulleys with 100 Kg. (20 of 5 Kg.) Two crossing outputs of 80+80 Kg.(16 of 5 Kg. + 16 of 5 Kg.) also for triceps and / or biceps With dominated bar. Dominated and assisted funds with 80 kg (16 out of 5 kg)) and sitting rowing at 100 kg(20 of 5 kg.)
Stainless steel regulations.
Seats and padded chest rowing: Made of high density foam (150), with a thickness of 4cm and upholstered with skay ignifugo and antibacterial. Paddle padding with deep regulation. High pulley seats with leg regulation.
Rowing seat: Pneumatic (gas).
The supports where the feet are placed are coated with polyamide polymer of high hardness, flexibility and high resistance to impacts and abrasion.
Painting: The metal parts pass through the degreasing and phosphating tunnel, then pass an electrostatic paint booth and painted with polyester powder paint. It passes through an oven passes its polymerization at 220o. Complying with protocol 14001 in environmental policy.