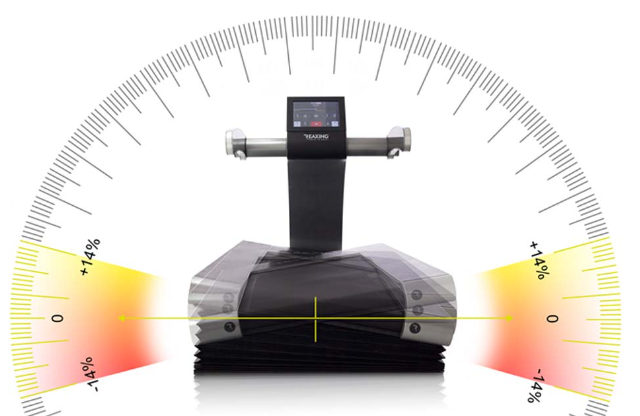 LENGHT (CM|IN) – 242,00 | 95,28
HEIGHT (CM|IN) – 166,00 | 65,35
WIDTH (CM|IN) – 117,00 | 46,06
WEIGHT (KG|LBS) – 600,00 | 1322,77
POWER SUPPLY – 240V / 50Hz
POWER CONSUMPTION – 4kW / 16A
---
REAX RUN IS THE FIRST REVOLUTIONARY PATENTED TREADMILL WHICH SIMULATES HIKING AND CROSS COUNTRY RUNNING
Thanks to its exclusive and patented technology you can now enjoy an off-road run for an extraordinary and engaging experience of movement. Reax Run is the only treadmill in the world capable of simulating an off-road running experience. The inclination of the belt varies unexpectedly in all directions.
An intuitive interface allows any user to start the training program desired from the integrated 19″ touch screen.
This product has also the Optional Tablet Control thanks to which the PT may take the control of the treadmill, modifyin in real time both the treamill movement and the speed.